One of the many things I've discovered here in Austin is Mexican Coke. Prior to moving here, I wouldn't of had the slightest clue as to what it is. Now I can't get enough of the stuff.
So I've decided to have a battle between regular Coke and Mexican Coke. Here we go:
Round 1: Appearance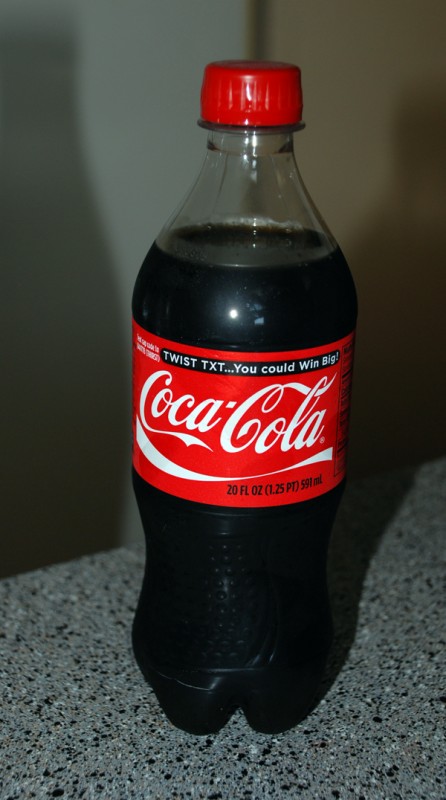 As the old saying goes, "appearance is everything." Even when we're talking about something as simple as cola. Lets take a closer look at the two different bottles and see which one wins:
American Coke
As you can see to the left, the American Coke looks like any Coke you would see at a gas station. It consists of a screw off plastic cap, a plastic label, and a paper (I think?) sticker known as the label.
There's a bunch of crap on the label about entering codes on the internet to win like a billion dollars or something. Does anyone actually take the time to read the codes off the caps and enter them online? I sure don't.
Other than that, we have some nutrition facts, bottle information, and that's about it.
In terms of appearance, it's not that appealing.
Mexican Coke
Now lets take a look at the Mexican Coke. As you can see, the Mexican Coke features a metal cap (it's not even a screw off), as well as a SUPER thick glass bottle.
Apparently they don't bother with the sweepstakes in Mexico, so the label is literally burned? etched? built right in to the glass. Kind of badass if you ask me.
It has far less information on it compared to the American bottle. The nutrition facts are actually on a sticker, which I'm assuming is added once it makes its way to the US.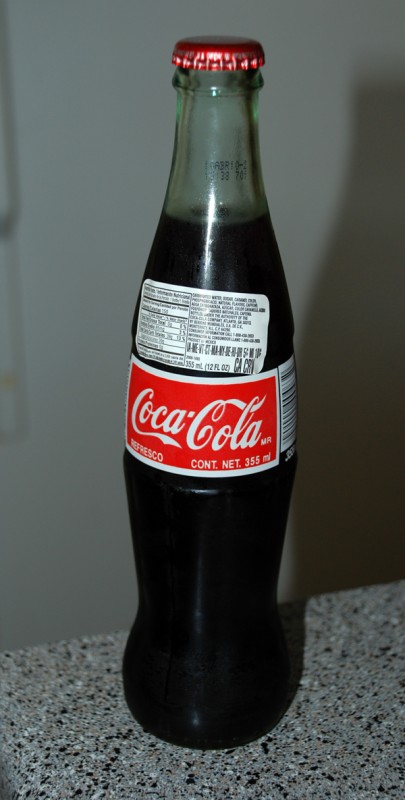 Overall, this bottle kills the American Bottle.
1-0 Mexican Coke
Round 2: The Ingredients
In round two, we're going to compare the ingredients. I know neither of them are healthy beverages but we'll forget about that for now. Here's a closer look at the ingredients of each one:
American Coke
Water, high-fructose corn syrup, caramel color, phosphoric acid, natural flavors, caffeine.
Mexican Coke
Carbonated water, sugar, caramel color, phosphoric acid, natural flavors, caffeine.
As you can see, there's only one key difference. The American Coke uses high fructose corn syrup, which is probably one of the worst things on the planet in terms of health. The Mexican Coke uses real cane sugar, which is at least natural.
2-0 Mexican Coke
Round 3: Taste Testing
Finally, time to taste the two and compare them:
American Coke
It's been awhile since I've had a regular Coke so I wasn't sure what to expect. I took a few sips and really focused on the flavor. For some reason, it tastes a lot more "fake" and has a chemical taste to it. The sweetness is more bitter and sort of reminds me of a diet Coke that uses artificial sweeteners.
Mexican Coke
Once I got done tasting the American Coke, I immediately tried some of the Mexican Coke. Wow does it taste better. It's sweeter and has a less acidic/chemical taste to it. It tastes a lot more like a naturally sweet beverage such as juice.
3- 0 Mexican Coke
It's Delicious
Well the Mexican Coke dominated this battle. I'll continue to spend a $1.25 on bottles knowing that the taste is far better. Now if only I could find it by the case somewhere…Mexico?